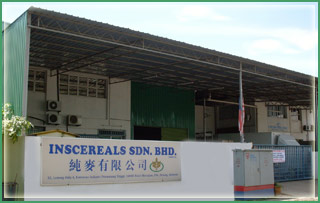 INSCEREALS Sdn Bhd has been in business since 2002. We are a dynamic company specializing in manufacturing INSTANT CEREAL FLAKES and BREAKFAST CEREAL DRINKS which has earned a remarkable reputation in CEREAL and INSTANT BEVERAGE manufacturing market place.
We also involved ourselves dealing in supplying food's ingredient for example; INSTANT OAT, all range of OAT PRODUCTS, instant coffee powder, cocoa powder, plant extract and more.
We are certified with ISO 9001:2008 in year 2009 and MeSTI (MOH food processing standard), MALAYSIA HALAL, and adhere to premium quality standard to fulfill all our orders. This reflects our motto of: "SUPERB QUALITY & DELIVERY ON TIME ".
Our management team has been involved in the food industry for past 20 years and are well experienced. We thrive to provide the best products and fulfill our customer's needs and moving toward acquiring ISO 22000 certification soon.